Home > About > The Principal
Principal
Mr. V. A. Kunjumon MA, B Ed, DSA, DCA.
The world has much to give to the young generation, and RVSMHSS, Sulur, is ever dedicated to this cause as has she been doing for the past 34 years. With the trust the parents have entrusted on us, with the confidence with which we enter our campus everyday and with the enthusiasm our children live through, we find no fleck in our road to success.With the amiable and compassionate teachers and with the most congenial atmosphere here, students intending to meet the ultimate goal of life, can groom in here. With scholarships and bursaries available to support the ones in need and eligible, we aim to reduce, as far as possible, any financial barriers to their progress.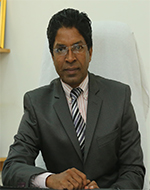 At RVS we take our responsibility to find what is exceptional in our pupils very seriously. Our experience and expertise in the field gives every child an all-round education built on a foundation of Service, Adventure, Sports, Creative Arts and Academics. With this specific purpose in front of us, we have prepared our curriculum enriched through child-centered learning and our teachers strive to foster the development of each student's unique talents and abilities.
To prepare our children enter a competitive and interconnected world, we build their capacity to collaborate, take intellectual risks and turn their ideas and passions into something original and valuable. We want them to leave the RVS, Sulur ready to engage with and contribute to any team they find themselves a member of, and not find themselves out of place.
Anyone willing and wishing to be part of this holistic plan can be part of RVS and can transform your wards into educated men; inspire them to be just and ethical citizens; train them to be wise and principled leaders and prepare them to enter the strangest world with the greatest ease.